Commercial, Construction and Residential Cleaning
Our cleaning services can be provided daily, weekly, bi-weekly or monthly.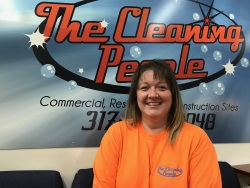 Meet Amber!  If you're looking for a quality house cleaning company, construction or a commercial cleaning contractor right here in the Indianapolis area, Amber is there to help with all your questions. From anything to estimates and customer service, she's the go-to person.  If you have any questions or would like to inquire about our services, ask for Amber!
Dial (317) 530-0048 or simply visit our Contact Us form for more information.
(
Click a Tab to learn more about each cleaning service
s.)
---
Residential Cleaning

- Dusting
- Remove cobwebs
- Vacuum all carpets
- Dust ceiling fans and light fixtures
- Clean mirrors and glass surfaces
- Remove all garbage and reline all cans
- Clean and sanitize all sinks, tubs, showers and toilets
- Sweep and mop all floors
General Cleaning Services Provided

- Trash removal
- Vacuuming
- Restroom cleaning
- Dusting cleared desks and tables
- Cleaning entryways
- Sweeping and mopping
- Vacuum elevators
- Clean stairwells

All rooms
- Remove trash
- Remove labels and stickers
- Remove painters tape and making tape
- Clean and polish glass
- Vacuum heating and air conditioning vents
- Wipe down grill vents
- Wipe down baseboards
- Chair rails
- Crown molding
- Wipe off door hardware
- Clean light fixtures
- Vacuum carpentry
- Sweep and mop
Bathrooms
- Clean and polish faucets
- Clean countertops and back-splash
- Polish mirror
- Wipe down cabinet fronts
- Clean and polish shower tile and surfaces
- Polish shower head and drain
- Wipe off towel racks, bar and rings
- Clean toilet, urinal and any other fixtures
- Clean inside cabinet and vanity drawers
- Clean and tile work on walls or around windows and doors
Kitchens
- Clean sinks and polish faucets
- Wipe down cabinet fronts and exposed sides
- Remove any items in cabinet drawers and place on countertop
- Clean inside of cabinets and drawers
- Wipe down cabinet shelves
- Clean and polish counter tops
- Removes tags and labels from all appliances and sinks
- Clean and polish all appliances
- Clean under sinks